Welcome to Our Website!

Founded in 1997, BaaHaus Animal Rescue Group is a non-profit organization located on six private acres in the center of Vashon Island, Washington.
As the surrounding countryside becomes more and more suburbanized, farm animals, farm "pets," and other domestic animals can be as victimized by demographic changes as the human population and the land itself. BaaHaus is dedicated to helping abused, neglected, and abandoned domestic animals, particularly farm animals that, due to past treatment, would be difficult to place through adoption.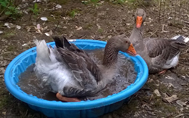 BaaHaus devotes its resources to providing a safe and permanent home for animals from the immediate local area who are in need of a secure home. By offering a safe environment for these animals, by developing ways to integrate animals and humans into mutually comforting patterns of co-existence, and by educating others, BaaHaus works at a local level to promote kindness, harmony, and understanding between beasts and people. We do not adopt out any of our residents.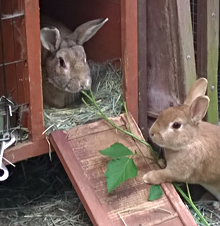 BaaHaus works cooperatively with other local humane organizations for the benefit of animals in danger or distress, and actively advocates humane treatment of animals through education programs and publicity. Two primary caregivers, a small group of volunteers, and a growing number of financial donors are making this animal rescue program possible.