Recent Rescues
Meet 11 New Sheep
In December of 2017, we picked up six neglected sheep that we determined to be the most needy, from a flock of 22. We did not think we had enough room to take the entire flock of sheep, and had contacted other farm animal rescue groups to step in.
Our six ewes, crammed into our trusty 1971 VW bus, rode the ferry back to Vashon. The sheep were thrilled to have a grassy pasture and a three room stable. It took them awhile to figure out that they could actually get out of the rain, and that armfuls of luscious Eastern Washington Orchard Grass would be served twice a day, along with ample portions of sheep chow.
Three months later, five of these sheep delivered lambs, much to our surprise, and now this group numbers 11. So much for not having enough space! Later this Spring, the adult sheep will be shorn, something that has never been done in the last 8 years. Although we have now ended up with almost twice as many as we intended, we love watching them romp and thrive.
Meet Shelton the Peacock
Beautiful Shelton came to BaaHaus all the way from Mason County, thanks to some very caring people. Shelton and another peacock had been regular visitors to a vacation cabin in the woods. The humans who visited their vacation spot frequently saw both peacocks just before the July 4th weekend. The following week, when they returned to their cabin, they could only find Shelton who was obviously seriously injured. His peacock friend was nowhere to be found. It was assumed that the peacocks had been frightened by all the (illegal) fireworks set off in the surrounding woods over the 4th.
The vacationers had to return to Seattle for work, but worried all night about the injured peacock. They contacted BaaHaus the next day and we agreed to take the bird if the people could catch him. They returned that day to Shelton (abandoning their workplaces!), scooped up Shelton and brought him to Vashon Island. A veterinary examination revealed no broken bones but a badly bruised leg and body. He may have been frightened by the firecrackers and flown into a car, fencepost or building. Shelton has made a good recovery over many months, has a barely detectable limp, and, while he would like to be free to roam around, makes the best of captivity with his many poultry friends in his large flight run.
Meet Roscoe the Magnificent
Roscoe, along with his lifelong companion Daisy, came to BaaHaus all the way from Moses Lake, after a blizzardy January night ride across the Cascades. His long time owner had just been diagnosed with a type of cancer which required relocation to the Seattle area for treatment, and he could no longer care for hisbeloved pigs. Roscoe is possibly a pig variety called a Kunekune (there are various spellings and he may not be one anyway). He is incredibly handsome with long glossy bristles, is very bright, and weighs in at around 400 lbs. Roscoe is VERY friendly and can do tricks. He knows to sit on command, to "jump" for a treat and will back up when asked to do so. That may not sound like much, but when you are caught in a narrow passage with Roscoe, getting him to throw himself into reverse is a very good thing. Roscoe is really a delightful personality, and while we hope for the best for his previous owner, we are happy to have Roscoe as a resident.
Meet Trickster the "Lion Hearted"
Trickster (originally named Tipster, but Trickster is definitely a better fit!) came to BaaHaus at the end of 2012. His human family had broken up and there was no longer a way that the people could keep him. Trickster is a Lionhead Rabbit, a newer domestic rabbit breed developed in the U.S. He is small, spunky and courageous, and a VERY picky eater. "Just treats, please" is his mantra, but we are insisting that he eat some rabbit pellets and fresh greens, raspberry leaves being a favorite. But NO THANKS to Eastern Washington Orchard Grass, Timothy or alfalfa, which most rabbits crave. Trickster thinks that stuff is just weeds. He has wonderfully long, soft fur that should be combed out every day...no, he doesn't like that, either. But he is gradually spending more time in one of the rabbit groups and, hopefully, he will be able to move out of his large cage this summer.
In Memoriam: Elton the Silver Pheasant
Every visitor to BaaHaus noticed a very strange, exotic looking bird, stalking around the perimeter. Elton was a Silver Pheasant, and also a serial killer of other pheasants. He originally came into PAWS of Lynnwood as a stray. We took him, figured out what he was, and he lived his stalking life for many years at BaaHaus. Elton disappeared several months ago from BaaHaus, we suspect the victim of a raccoon attack. Raccoons are a constant worry at BaaHaus and we work to protect all the vulnerable animals. But Elton was a free spirit, the only free-run resident at BaaHaus, because he could not be kept enclosed with any other birds. He was at least 10 years old when he vanished.
In Memoriam: MeeMaw
MeeMaw the goat was easily identified because of her tongue. She may have been a victim of BTV, Blue Tongue Virus, which is a non-contagious disease found in ruminants. Also called catarrhal fever, it is caused by a tiny midge and the disease is often fatal. MeeMaw came to BaaHaus about three years ago from a company that "rents" goats for ground clearing work. She was in poor shape, with foot and leg problems which were side effedts of BTV. But with care, and high quality food, she slowly regained her health. Her personality was one-of-a-kind and she never let her illness get her down. She was curious, naughty when possible, and lived the last few years of her life in a perfect goat environment, surrounded by admirers. She passed away very suddenly in January 2013, at what we think was a genuinely ripe old age.
Meet the llamas
In December 2010, very disturbing news came out of Montana. The Montana Large Animal Sanctuary had collapsed due to funding problems, and over 1,200 animals---most of them large, as the name implies---were in desperate need of rescue. Over 600 llamas were at this sanctuary, many in increasingly poor condition. Fortunately, the national llama rescue community stepped up and began the work of hauling the animals out of the sanctuary and on to foster homes where proper food and veterinary attention was available. Gradually, the llamas are being placed in permanent homes all over the country.
BaaHaus works very closely with Chela Grey, director of the Stillpointe Llama Sanctuary out on the Kitsap Peninsula, and because Chela (whom some of you met at the 2010 BaaHaus summer Party) has devoted her life to llamas, she became actively involved in both taking in, and placing some of the Montana llamas. She asked if we could take two females, Patches and Lotus Blossom. Of course we could. Now at BaaHaus, these two nice ladies are adjusting to life with El Salvador and Roberta.
For more information about this very large, national llama rescue effort, go to http://stillpointesanctuary.org/montana-large-animal-sanctuary-rescue-mlasr-closes-reveleaing-severely-neglected-animals/
Meet the beautiful Flo
This hen came to BaaHaus ealy this Spring. She was suffering from a prolapsed uterus, a not uncommon problem occuring in laying hens. Her owners could not afford the medical procedure necessary to try to correct Flo's problem so they surrendered her to BaaHaus. While not always correctable, Flo's recovery has been completely successful. Despite her somewhat stern expression in this photo, she is a delightful gal, continues to lay eggs and enjoys free-ranging at BaaHaus.
Meet Fabio Jr.
Fabio Jr. was turned over to Seattle Animal Shelter in April 2011. He was scooped up by the indominable Best Friend of Poultry TIffany Young, who does fantastic work rehabilitating injured and sick ducks, geese and chickens. After Fabio got some rehab time and a full avian vet checkup, courtesy of Tiffany, he came to stay at BaaHaus. He's a cranky little fuzzball, and a total bossy pants.
Meet Bramble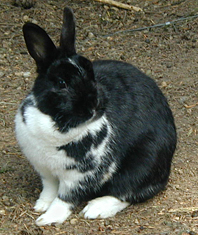 Bramble was surrendered to BaaHaus in early Spring 2011 because he bit his little girl owner, and was also suspected of having a condition that causes seizures (he did have one very serious seizure) and possible blindness. BaaHaus provided medical attention and he has not had any additional seizures. As for the blindness, eye exams turn up very odd findings, but he seems to have at least some vision. He has adapted quite well to the rabbit common play area, returns to his sleeping quarters inside the rabbit house when told to do so at night, and seems to enjoy a full bunny life. He really isn't much of an attack rabbit, either!
Meet Jillian and Mitchell
Jillian and Mitchell came to BaaHaus in November 2007. Just seven months old, they were destined to be slaughtered when a student at Western Washington University intervened. When no other pig sanctuary would take them, we agreed to make room for them, although we are not really "built" for commercial hogs. Jill and Mitch share a large stall and what was once a very nice grassy play yard, but now a total mudhole. They are allowed a few hours a week of luxuriating in the tall grass of the otherwise unused corral area (seen here), but if we leave them there too long, they feel the need to thoroughly rototill the entire area.
Meet George
BaaHaus recently welcomed George, a handsome Toulouse Goose who had been in recuperative care for many months in Seattle, at the home of Mr. Flapper ("Seattle's Famous Duck") and his assistant Tiffany. Tiff provides a wonderful service to poultry in need of medical care. You can see and read all about George and his arrival at BaaHaus, and find out a lot more about Mr. Flapper and his very lucky fellow feathered friends by going to:
http://mrflapper.com/blog/2011/03/12/goodbye-george-we-love-you/
Note: Mr. Flapper asked that we elaborate on this one detail: he needs an assistant only because fingers that are feathered and toes that are webbed together make using a computer keyboard extremely difficult. Plus, he doesn't have a driver's license, but only because he is a bit short and can't see over the dashboard. He is currently considering a discrimination lawsuit against the DMV.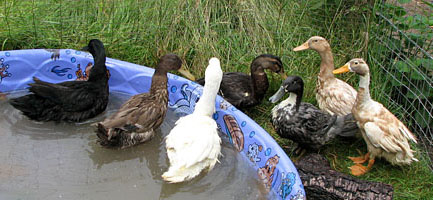 Meet the I-90 Ducks
One morning in the early Spring of 2008, we got a phone call from a man in West Seattle. Could we take nine ducklings? I immediately assumed that this guy had ordered some ducklings (possibly to raise for meat), decided that they were too much trouble and now wanted to off-load them. Well, was I ever wrong!
Our hero had been driving home on I-90 after a long sales trip to Eastern Washington. Just outside North Bend, he happened to notice a big packing box by the side of the road. As he roared by it, he saw a little yellow head pop out of a hole in the box! Slamming on his brakes, and pulling over to the side of the road, he cautiously backed up toward the box. Inside were a dozen duckings, nine of whom had survived their collision with the roadbed.
The ducklings were all different colors, only about two days old. George surmised that someone must have picked them up east of the mountains, tossed the box in the back of a pickup truck and taken off. But the ducklings had a combined weight of maybe a quarter of a pound and so the box probably blew out of the truck bed.
George gathered up the peepers and took them home, not knowing what else to do, but he certainly was NOT going to leave them to their fate on the freeway. He stopped off for a heatlamp, cedar chips, a big shallow plastic tub, duck food and other necessities, and set the ducklings up in resplendent luxury in his garage. As a few days passed, George fell in love with the ducklings but also realized that a travelling man was probably not the best stepfather for this little brood. And besides, they were growing like crazy. After searching the web, he gave us a call and we relocated them to BaaHaus. Now they can cavort, splash and waddle in a safe permanent home with us.
We thank George from the bottoms of our ducky hearts and we thank all the other people who take the time to help an animal in distress.
Meet the Inkspots
In January 2010, BaaHaus received an email from Seattle Animal Shelter (SAS), asking if we could take four Muskovy ducks. Muskovy ducks are quite distinctive; they look like a cross between a turkey and a goose. They wag their tails, speak in whispers rather than quacks, and are native to Mexico, Central and South America. The males are quite large and muscular. Consequently, they have been domesticated and raised as a meat source. But Muskovies don't like being at the center of the menu, and so many have brushed up on their flying, escaped back into what is left of Nature, and successfully naturalized in a few areas, including the Puget Sound region.
But it turns out that they are also used for another purpose. The four little guys at SAS were confiscated in a Seattle area cockfighting raid. Yes, this disgusting activity (it certainly cannot be characterized as a sport) can be found all over Washington State. Law enforcement works hard to close down these operations, not really so much out of a concern for animal cruelty but because of the illegal gambling, drug and alcohol action that is almost always a part of the cockfighting culture.
You are thinking, "Fighting DUCKS? Huh!?" That was our reaction, too. Turns out that the young ducks, with their blunt bills and soft, vulnerable webbed feet, are perfect for practice "fights" with the cocks. They are used as bait to get the blood lust up. The cocks can't possibly get hurt by the defenseless ducks and, who knows, maybe the soon-to-be very dead ducks end up as snacks for the fight audiences.
Needless to say, our four ducks, named after the famed vocal group The Inkspots (Deek, Hoppy, Bill and Charlie) are singing/whispering a much happier tune at BaaHaus, safe from one of the most despicable forms of human entertainment.
In Memoriam: Barbara the Sheep
Barbara was surrendered to BaaHaus in January 2005 because her owners were unable to provide the intensive medical attention she needed for severe injuries sustained in what was thought to be a dog attack. We washed, medicated and injected Barbara for several weeks and were hopeful that she would fully recover from this extensive, badly infected wound.
Barbara was probably the most popular resident at BaaHaus because of her gentle and patient demeanor. She was a wonderful, people-oriented sheep who loved company, and who made up for her short stature with towering courage and her just darned cute personality. She chose not to live with other sheep, and instead enjoyed a straw filled suite just inside the big stable, where she could supervise food prep for the llamas, potbelly pigs, the two big hogs and the other sheep. She was free to roam about the sanctuary and, on occasion, liked nothing better to sit with you on a warm summer night gazing up at the stars.
Barbara passed away peacefully in her special area, after enjoying six years at BaaHaus. She taught us more about interspecies communication, love and forgiveness than we could have ever imagined possible. She is deeply missed every day.
Meet Loretta
Loretta's story is all too common: auctioned off for a few dollars at a slaughterhouse, to people intending to butcher and roast them, countless farm animals in extraordinarily poor condition suffer and die so that humans may feast. Loretta and another elderly sheep were purchased for this purpose just before Easter 2009. Both were in very poor condition--grossly malnourished to the point of starvation, covered with a large external parasite called Keds (Hippoboscidae) or Louse Flies, filled with internal parasites, and losing fleece in large swatches. However, Loretta still had her wits about her; she and her companion fled the North Seattle location where they were supposed to be slaughtered and eventually got picked up by the North Precinct Seattle police. Temporarily incarcerated in a jail cell (the custodial crew was not happy the next morning), the two sheep were taken to Seattle Animal Shelter where veterinary care was begun.
BaaHaus was asked to take the sheep and continue veterinary care and rehabiliation. Sadly, we were unable to save the second sheep. We see this happen on occasion: an animal makes an extraordinary effort to hold herself together through terrible circumstances--anyone who has visited a slaughterhouse knows how frightening the environment is--and finally finds a safe home, but it is just too late; after two weeks, she died peacefully with her friend Loretta watching over her.
Once we got Loretta cleaned up and de-bugged, and gently encouraged her rumin to begin functioning normally, she turned out to be a very high spirited younger sheep who still had enough energy to recover from her ordeal. She is now rompin' and stompin' in the upper pasture with Dickenson, a Black Welsh Mountain Sheep. You would never know she had been so close to death just months earlier.